I wanted to start a new page for all the stuff I have done to my Jeep since I got back from Iraq. I was on my back for about the first 4 months and lived on my computer & Ebay.
I have done a bunch of little things & some bigger things since I have been mobile.
While I was home on leave I found a already built Tera CRD60 rear axle. It has an ARB air locker, 5.13 gears, CroMoly axle shafts, Disc brakes & all the TJ brackets installed. Here is a picture of it installed in the PO's Jeep.

I am just now starting to build my front axle to replace the stock axle. It is a High Pinion D44 from a 1976 Ford. It will have an ARB air locker, CroMoly shafts, 5.13 gears and all the other goodies. As I build it I'll post pictures.
I bought a Kilby fuel tank skid used and just installed it.

I also picked up some Poison Spyder tube fenders used. They are the model with the 3" flare.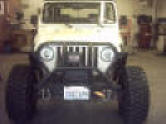 I have a buddy down in Vancouver, WA who has his own 4X4 Fab shop called Big Rocks Off-Road. I was just down at his shop getting a bunch of work done. We installed the fenders, made the hood hoop & installed a Poison Spyder trail cage. The cage as it is from PSC is nice but we made some little changes to better work for me.
I also got a new rear bumper from Greg and will be adding the tire swingout soon.

When Greg made the hood hoop he tied the supports into my original bumper that I think makes it look nicer now than before.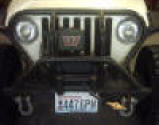 If you look close you can see the winch rope I got for Christmas. It is 125' of 3/8 winchline. Synthetic rope is way safer than steel cable and my cable was due for replacement.
I also installed a 33 Engineering 2 piece bellyup flat skid. It is a great design and would recommend it to anyone.